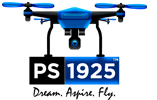 PS-1925 is a drone manufacturer, technology and service provider company that designs flying Unmanned Aerial Vehicles (UAVs) based on the application desired.
Industrial Collaborations

Indegene Inc. is a company offering research and development and management services to healthcare and pharmaceutical enterprises. The NLP and AI Team at Indegene works on developing solutions for healthcare sector.

DNA Xperts Private Limited is a company working on Whole Genome Analysis, Pharmacogenomics & Personalized Medicine for precision treatment of tumors, Infectious Genetic and testing for Rare Diseases.